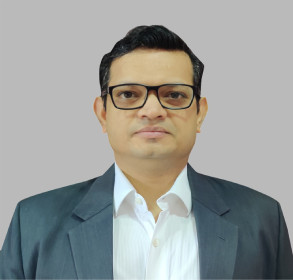 Mahendra Patil
Mahendra Uttam Patil, age 42, is a Post-Graduate in Commerce and M.M.S. (MBA) from Jamnalal Bajaj Institute of Management Studies. Besides, Mahendra Patil is a Certified Financial Risk Manager (FRM) and has completed CFA-II (USA).
Mr. Mahendra Patil, since 2013, has been providing credit risk advisory services to various corporates in India. He has developed the clientele from 1 city in 2013 to over 15 cities, spread across 18 industry verticals. He has handled over 340 Credit Rating advisory assignments having cumulative debt profile of over 1,80,000 crore. He has garnered over 200 corporate clients having average debt profile of about 450 crore. As a Credit Rating Consultant, he has worked with over 95% success ratio in convincing the rating view to the credit rating agencies.
With overall experience of over 20 years across various fields of Credit Rating, Banking, Accounts, Marketing and Entrepreneurship, Mahendra Patil brings in diverse experience across functions. Having associated with Rating Industry for over 14 years, Mahendra Patil has worked for 7 years with CARE Ratings and have handled various credit ratings for various corporates across sectors. He started his career in Credit Risk industry as an Analyst, post completion of MMS from JBIMS, and grew to become a Group Head, Sector Head, Member – Quality Control Team and Internal Rating Committee member. Besides developing various rating methodologies for sectors such as Real Estate, Shipping and Ship Building, he has worked on 500+ rating assignments from various industries ranging from Power, Steel, Shipping, Roads, Shipbuilding, Ports, Logistics, Real Estate, Power Transmission Structures, Retail, Tyres, etc. He was also part of the Core Team to implement ISO procedures.